Black Mountain Golf Club in Hua Hin is continually ranked as one of the top golf courses in Thailand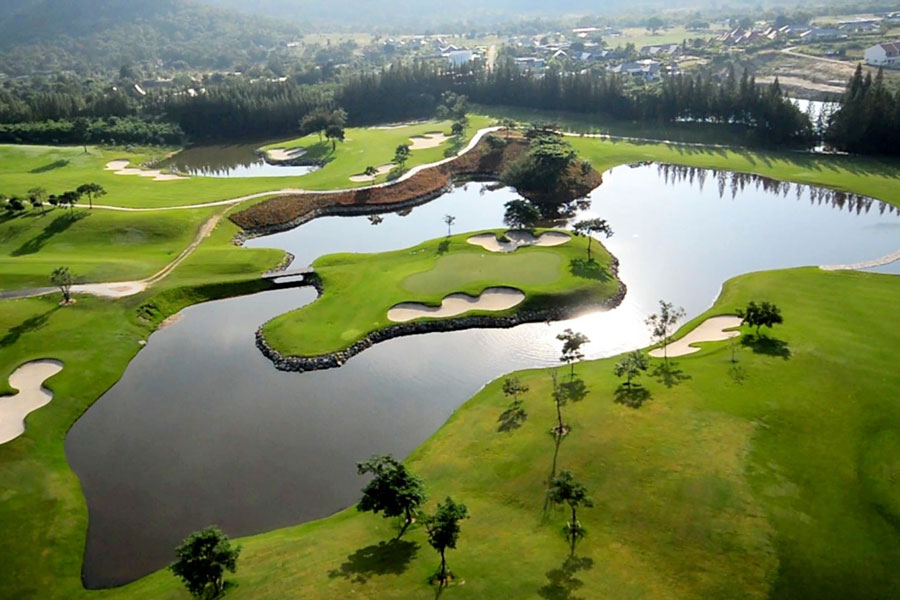 Black Mountain Golf Club is in Hua Hin, Thailand and if you complete an internet search for the best golf course in Thailand, you are likely to see the name appear near the top of the list. Despite continually being ranked as one of the top golf courses in Thailand, Black Mountain have not been resting on their laurels. In December 2016, a new set of nine holes, which brought the total number of holes at the club to 27 were opened and this is a sign Black Mountain is continuing to improve and develop, bringing a bigger, better choice of golf to Hua Hin.
Black Mountain Golf Club was established in 2007 and the initial 18-hole course was designed by Phil Ryan. The land on which the golf course sits is the site of lush jungle and pineapple plantations, with big black rock mountains creating the natural valley feel to the course. One of the great things about this golf course is the location, which despite only being 10 kilometres west of Hua Hin, seems to be remote and away from any signs of life. You can choose to stay in the centre of Hua Hin and reach Black Mountain within 25 minutes, yet feel a million miles away from the city when playing your round of golf. To reach the course from Hua Hin, you must head west along Route 3218 and it is a very easy drive, mostly along the same road. If you are arriving via Bangkok, you must head south on route 35 and then route 4, a drive which take just over 2.5 hours but worth every minute.
Best Time to Play Golf at Black Mountain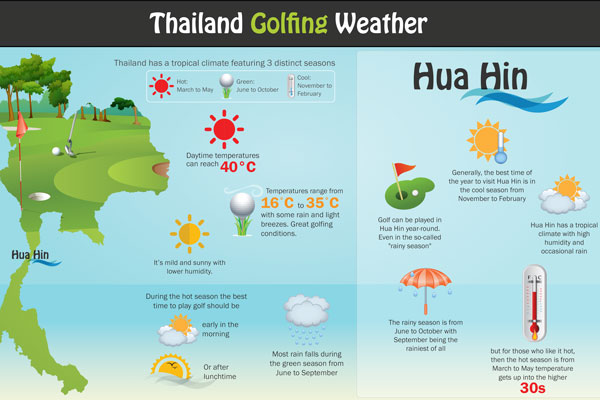 Due to Black Mountain's location, close to Hua Hin, you will want to choose the time you visit the area to play carefully and select a time of the year which fits in with what you enjoy in terms of the weather. Much like any other tropical country, Thailand has seasons and you should pay attention to these when planning a trip to play Black Mountain. Due to the fact Hua Hin is centrally located and on a peninsula, which extends down towards Malaysia, it has three distinctive seasons every year. Considered by many to be the best time for a round of golf at Black Mountain Golf Club, the cool, dry season in Hua Hin is from November to February. The average temperature at this time of year is 26 degrees, so while not being cool by North American or European standards, it certainly is for Thailand. At this time of year, rain is a rare occurrence and although the wind can pick up in the afternoon, it certainly won't have any impact on a round of golf in Hua Hin at Black Mountain.
Hua Hin is at its hottest between March and June, with temperatures rising to 35 degrees in the day time and hovering around 25 degrees at night. Much like the cool season, rain is not much of an issue other than towards the end of June, when showers begin to get more common. If you are happy to play golf in hot temperatures, you can easily enjoy a round of golf at Black Mountain, just make sure you keep hydrated throughout your round. Between July and October, Hua Hin can become quite wet but does not suffer from the monsoon conditions of the north and south of Thailand. Days can start overcast but this soon clears up it can become quite hot, with rain usually arriving mid-afternoon in the way of sharp showers, which can be quite refreshing. Even following a spell of heavy rain, Black Mountain Golf Club is open for business, so you need not worry. However, if you want prime golf playing conditions then the best time to book a golf holiday including Black Mountain is between November and February.
How to get to Black Mountain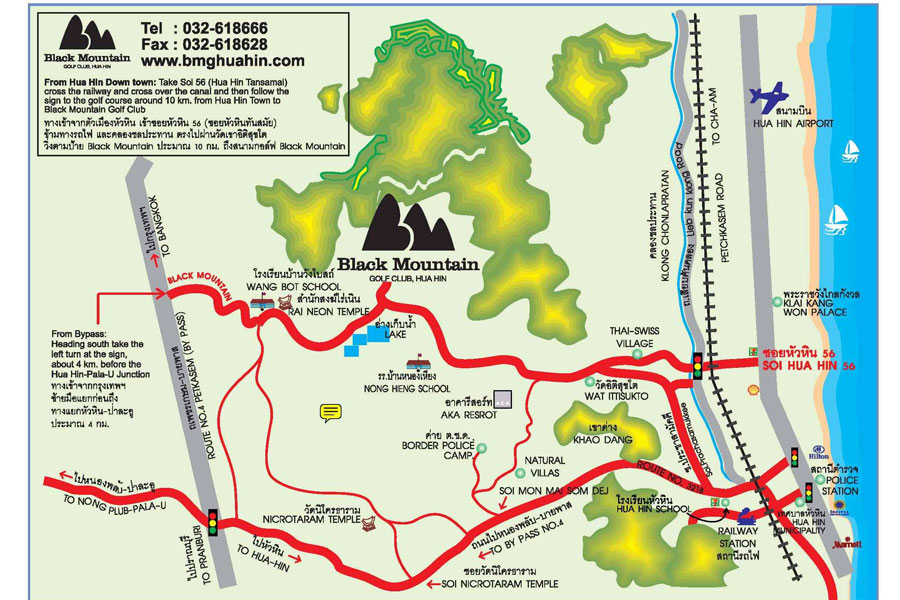 Black Mountain is about 30 minutes outside central Hua Hin and around 3.5 hours from Bangkok.
Black Mountain Golf Tournaments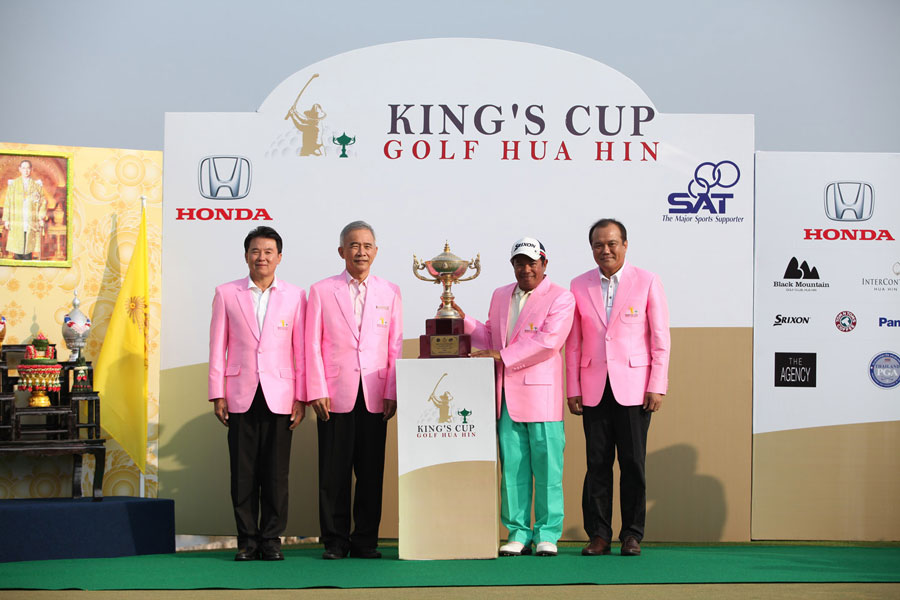 Having opened in 2007 it was just two years before Black Mountain Golf Club hosted their first big professional golf tournament. The club played host to Asian PGA Tour events in 2009 and 2010, in addition to the Royal Trophy, a match play tournament between Asia and Europe in 2011. The inaugural True Thailand Classic was played at Black Mountain in 2015 and again in 2016, which is a co-sanctioned Asian Tour and European Tour event. The King's Cup, which is an Asian Tour event was played in January 2014.
Recently, Thongchai Jaidee, who is Thailand's best professional golfer and has over 18 professional tournament wins to his name, hosted his foundation tournament at Black Mountain Golf Club. Not only that but David Leadbetter, one of the world's top golf coaches visited Black Mountain prior to the Thongchai Jaidee Foundation Tournament and had high praise indeed for the golf course and the club in general. Leadbetter also joined John Solheim for the 10th annual Asia Pacific Inter-Club Tournament, hosted by Black Mountain Golf Club. Black Mountain is making a great name for itself, not only in Thailand and Asia but further beyond the continent, to Europe and North America.
The fact Black Mountain continues to win the most prestigious awards in Asia, is a glowing testament to the quality of the golf course, the facilities and the staff. In 2016, Black Mountain was presented with the award for Thailand's best golf course. This was not a one-off achievement, it was the sixth consecutive year the golf course has won the award and highlights how it continues to set the very highest standards for golf in Thailand. Black Mountain Golf Club was also awarded Best Golf Course in Asia Pacific 2016 award, at the Asiangolf Awards and it was the second consecutive year it has won that award, making 2016 another great year in the young history of the golf club.
Awards and Honours - Black Mountain Golf Club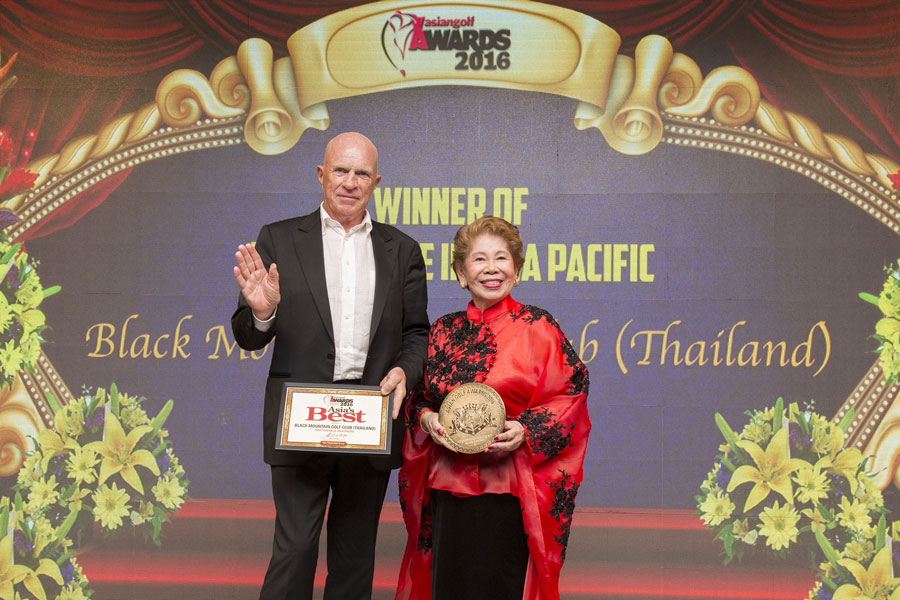 Indeed, in its short history, between 2008 and 2015, Black Mountain Golf club won a staggering sixteen different awards. The awards range from the Best Course in Thailand, awarded by Asian Golf Monthly, Best Championship Course in Asia Pacific and in 2015, an award for being the first golf course in Asia to become a European Tour Property member. Three years earlier, Black Mountain had the honour of becoming the first golf course in Thailand to feature in the US Digest Top 100 Golf Courses outside America, which is a tremendous accolade. As mentioned above, Black Mountain continued to receive awards in 2016 and is looking forward to challenging for the major golf awards in 2017 and further into the future.
Black Mountain has received high praise from many golf publications around the world, such as the US Digest Top 100 Golf Courses but the best way to truly judge the quality of a golf course is to read what the people who have played the course have to say in their reviews. A quick search online in February 2017, showed close to 500 genuine reviews on TripAdvisor, with an average rating of 4.5 out of 5, which is fantastic. Customers from all over the world have rated the golf course with comments including "Simply Unmissable", "Great Course, Facilities are Superb", "World Class Golfing" and "Beautiful Course".
The thing is, these reviews are not the best picked out from a large group, they are prominent throughout the first few pages on the website and continue through to the final page. It's clear the public, in addition to golf award committees and professional golfers rate Black Mountain Golf Club very highly indeed. So, what is it about the golf which makes it so popular?
Black Mountain Golf Course Layout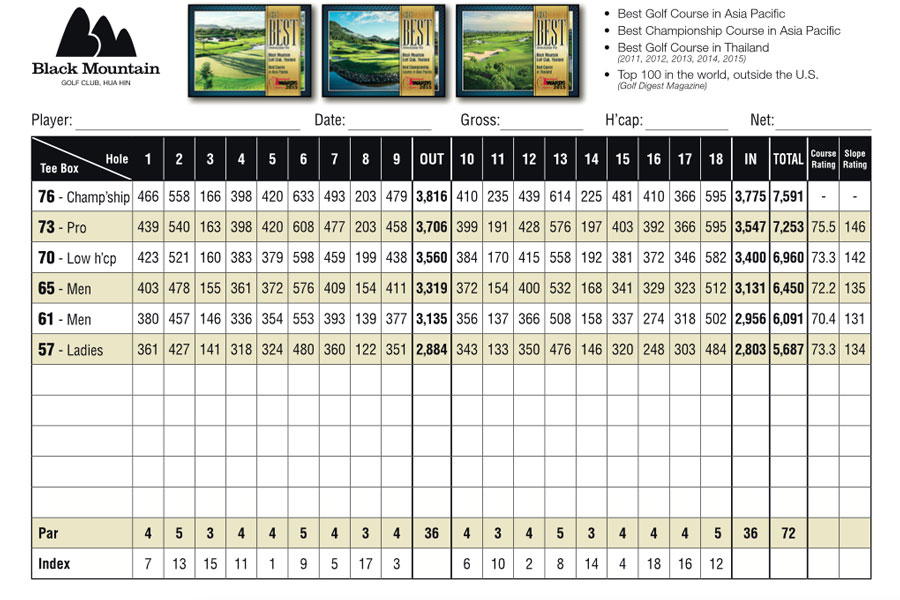 With the completion of the third set of nine holes, there are now 27 holes on the Black Mountain Golf Course and these are divided into three sets of nine. The course is set on eye-catching terrain, with small creeks weaving and connecting with each other throughout plus undulating fairways and greens. There are many trees around the course, which in addition to the mountains and other natural features, frame the course nicely. There are several risk/reward decisions which need to be made when playing any of the 27 holes and the width of the fairways is generous for the shorter hitters but for those who play long, they start to narrow and this becomes a challenge. A sound strategy is also required when playing approach shots to the greens and there is no doubt, having played one round of golf at Black Mountain, you will want to return and tweak your strategy until you get it right.
The golf course is a test for both professional and amateur players alike but is also great fun to play. There are many exciting shots to enjoy, with three man-made lakes and large bunkers providing the hazards to avoid. Being a resort which offers accommodation, both in terms of a holiday rentals, longer rentals and to buy, you would expect to see property lining the golf course, as you do at many other golf resorts of this nature but at Black Mountain, this is kept to a minimum. Housing only borders a few of the holes and never feels intrusive during a round of golf. The number of times you will feel tempted to take out your camera is testament to the beauty of the golf course at Black Mountain.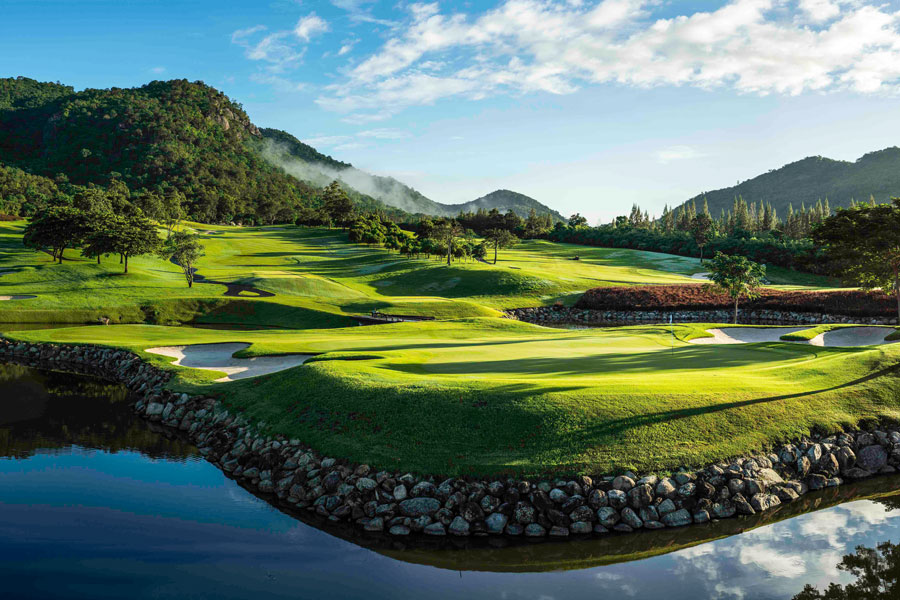 The adventure begins on the first hole of the opening set of nine, which looks deceptively easy from the tee but the wide fairway has a ridge and if you do not clear this, you are left with a difficult second shot up the valley, to a raised green. The par-5 second hole will tempt the big hitters to go for the green in two but with deep bunkers and water guarding the green, laying up is the safer shot. Deciding whether to attack or play safe on this set of nine holes, sets the tone for much of the Black Mountain course. Holes four and six feature difficult island greens which are elevated, so you must check the wind before playing your approach shot. Positioning off the tee is crucial to a good round on this set of nine holes.
The second set of nine holes feature arguably the most difficult hole on the course. The par-3 second hole features a tee shot over water to a small green and this where most lost balls go astray on the course. The fourth hole has the highest tee box on the course and is a 615 yard, par-5 played downhill to a green protected by water. If you do not reach the ridge on the fairway, you will be faced with a daunting second shot because you will be playing it blind. The final four holes continue along the same trend, with slopes, bunkers, boulders and water to contend with. Much like the first set of nine, you must be accurate with your shot off the tee to stand any chance of making a low score. Having said that, there is so much fun to be had on this golf course, your score is not as important as it may seem when you start.
The third set of nine holes is the most recently opened and replaces the par-3 course at Black Mountain Golf Club. The additional nine holes offer the same, world class level of golf as the original 18 holes, with tremendous views and water hazards being the key features.
The Clubhouse at Black Mountain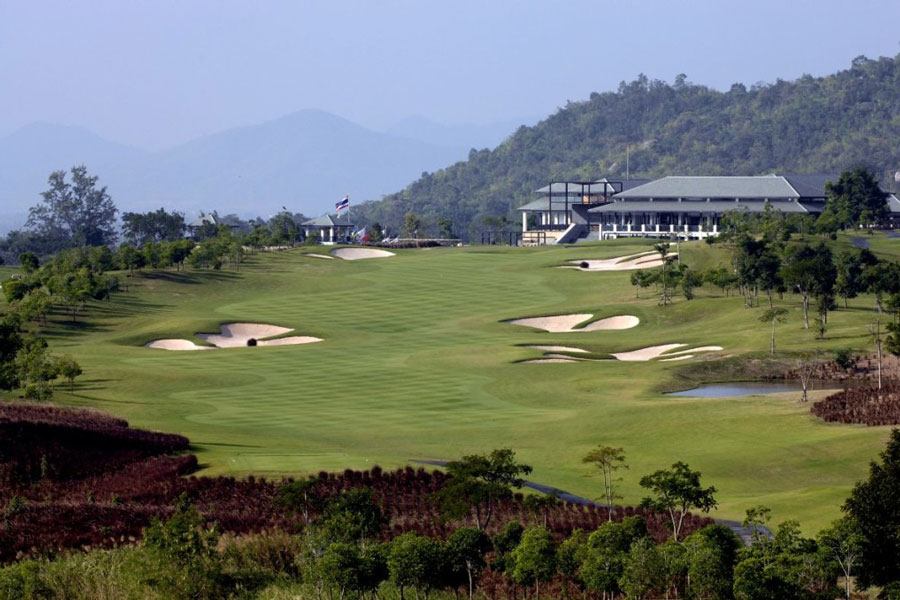 It's great the golf course at Black Mountain is fantastic, after all, it is the main reason people come to the golf club. However, the experience of playing at Black Mountain starts before you tee up the ball on the first hole and doesn't end when you have successfully putted on the 18th hole. When you arrive at the golf club, you can warm up at the driving range and putting green, which is close to the clubhouse. There is mini-supermarket located under the clubhouse and this is a good place to stock up on any drinks and snacks before you head to the first hole. The caddies are cheerful, well dressed and become invaluable when the wind starts to pick up, something which can happen during the dry months of January and February.
Having completed your round of golf, you can take a nice, refreshing shower in the clubhouse, before heading to the award-winning restaurant. Yes, it's not only the golf course which has won awards at Black Mountain Golf Club, the restaurant has too. The whole Black Mountain resort is a Swedish project and this is noticeable in the restaurant kitchen, with Swedish executive chef Marten Karlsson responsible for the lovely menu. There is food available all day, including breakfast, lunch and dinner. The dinner menu has hints of Scandinavia as well as offering local Thai dishes and other international cuisine. There is something for everyone, with Toast Skagen, a typical Danish dish of boiled shrimps and chopped onions in dill and lemon mayonnaise, served on bread being one of the most popular dishes. The Thai specialities of Phat Kra Pao Moo, pork stir-fried with basil and Phat Met Mamuang Himmapan, which is stir-fried pork, beef or chicken with cashew nuts are enjoyed by Thai golfers and western visitors alike.
Black Mountain Golf Resort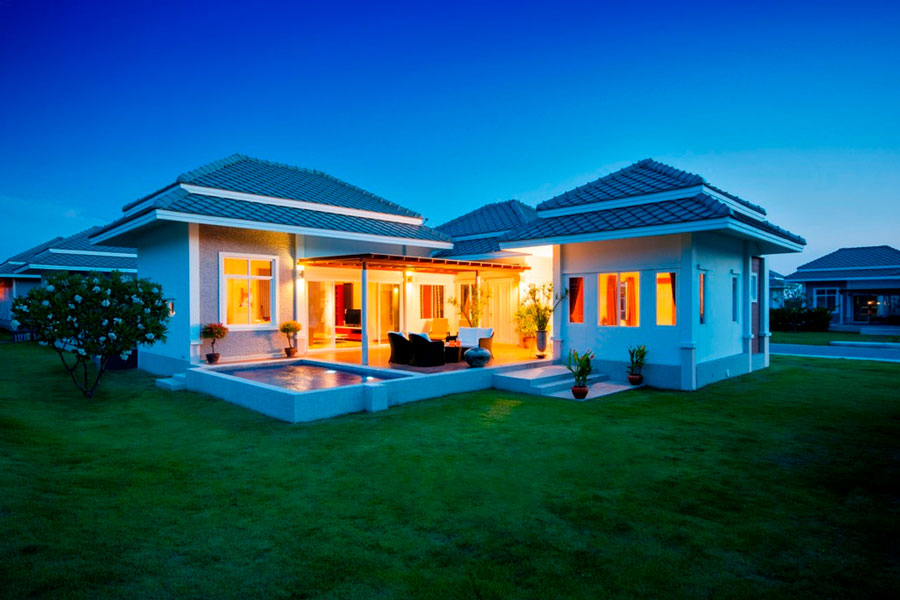 Moving on to the resort facilities and if you are lucky enough to book a stay at Black Mountain, the pool villas are the ideal option. They are perfect for a weekend or longer stay for both couples, families and golf groups. There is a choice of 2 bedroom and 3 bedroom villas, both coming with a private swimming pool, luxurious bathroom and European style kitchen. By booking a stay at Black Mountain Resort, you will gain access to the spa facilities, which comes highly recommended and includes authentic Thai massage, sports massage, aromatherapy massage, body treatments and Swedish massage. There is also a fully equipped gym, tennis courts, table tennis, miniature golf, beach volleyball and boule. In addition to these facilities, every member of the family or golf group will enjoy the Black Mountain Waterpark. It is one of the largest and most modern waterparks in Asia and comes complete with several water slides, a lazy river and a range of swimming pools to enjoy.
With the world class golf course, in addition to the idyllic villas and excellent facilities its little wonder Black Mountain has the reputation of being one of the best golf courses, not only in Thailand but the whole of Asia. This is a golf destination which ticks all the boxes and should not be missed when planning a golf holiday in Thailand.