Chiang Mai is situated is surrounded by mountains and lush countryside and home to some top-class golf courses
Click here to see list of all Chiang Mai Green Fees - save up to 50% when you book here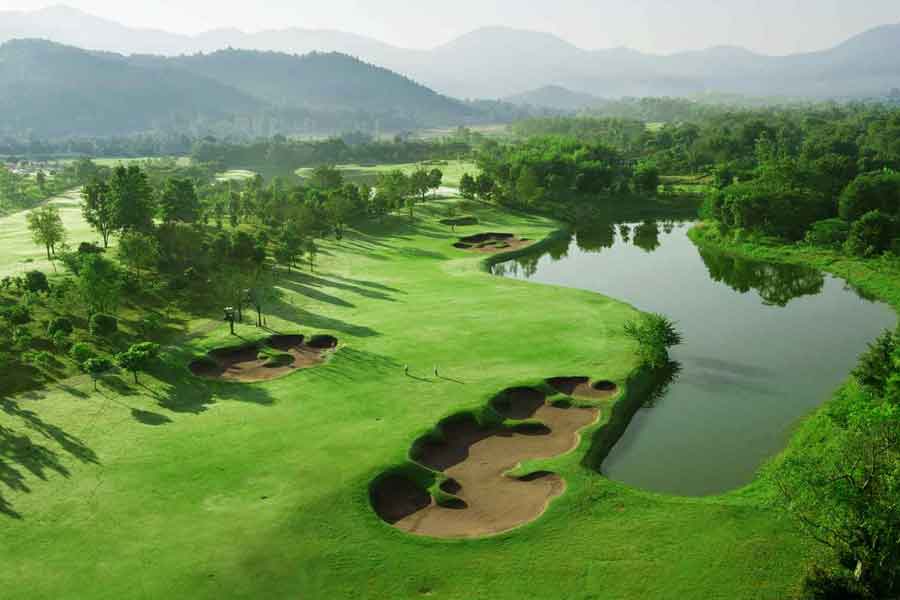 Looking to perfect your swing in one of the most beautiful destinations in Southeast Asia? Look no further than Chiang Mai, Thailand's hidden golfing gem. With its stunning landscapes, lush green fairways, and world-class golf courses, Chiang Mai offers golf enthusiasts an unforgettable experience. Whether you're a seasoned pro or a beginner looking to improve your game, this ultimate guide to Chiang Mai's golf courses will help you navigate through the city's top golfing destinations. From the prestigious Alpine Golf Resort to the picturesque Chiang Mai Highlands Golf and Spa Resort, each course offers a unique challenge and an opportunity to indulge in the beauty of the surroundings. Get ready to tee off amidst breathtaking mountain views, navigate through carefully designed holes, and enjoy the warm hospitality that Chiang Mai is famous for. So grab your clubs, book your tee time, and get ready for an unforgettable golfing experience in the heart of Thailand.
Just a short ride from the city of Chiang Mai, will find yourself in stunning tropical rainforest, gushing waterfalls, bubbling hot springs and small, rural villages. The number of people living in and around Chiang Mai is significantly smaller than Bangkok and other popular areas of Thailand. So, you are guaranteed more space to roam free and that's what a lot of people choose to do when in Chiang Mai.
The natural surroundings are what attracts many of the visitors to Chiang Mai and northern Thailand but with over ten excellent golf courses to choose from, people are also booking golf holidays. Being a very scenic and green region of Thailand, the golf courses around Chiang Mai are very picturesque and therefore golf lovers from Bangkok, enjoy bringing their golf clubs for a weekend getaway.
Before choosing the best golf courses in Chiang Mai, you should be aware of the best times to book a golf holiday to this area of Thailand. Thanks to its elevation, Chiang Mai enjoys a cooler climate than many other places in Thailand and this is great for golf. It enjoys a tropical wet climate, with an average temperature of around 25 degrees centigrade. The wet season is between May and October, with most rain fall during August and September. The dry season falls between November and April, with the period between November and February offering the coolest weather. If you are visiting to play golf in Chiang Mai between December and January, you may want to bring some extra clothing with you for the evenings, as the temperatures can be much cooler than you would expect in southern Thailand.
So, if you want to play the best golf courses in Chiang Mai when they are looking their most pristine, November to February is the ideal time to visit.
A challenging course surrounded by forest-covered hills with wondreful views in all directions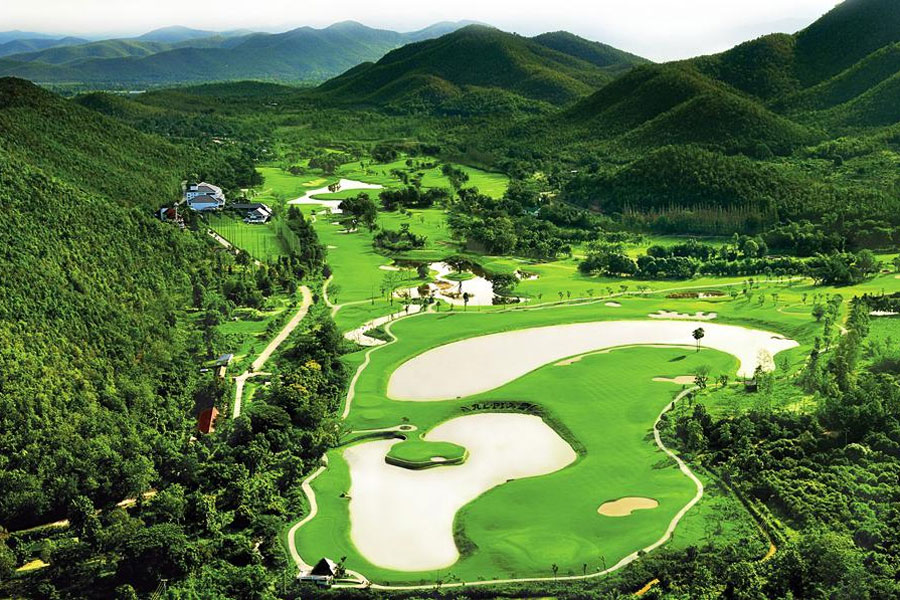 If you would like to see one of the best golf courses in Chiang Mai in terms of natural beauty, you must head to Alpine Golf Resort Chiang Mai. Designed by Ron Garl and established in 2009, this golf course nestles in a valley between mountain ranges in the heart of the San Kampaeng natural forests. It does not matter where you are on this golf course, you will always have great views, especially of the nearby forests and hills. The course was designed in a way which presents the natural beauty of the region to the golfer and does it superbly.
With a choice of tee boxes, Alpine Golf Resort Chiang Mai is suitable for players of all abilities but plays quite long from the back tees. The full length of 7,541 yards will challenge the serious golfer and the longest par-5 hole on the course, stretching to 652 yards, is also one of the biggest in Thailand. The 7th hole is very interesting, with a spirit house near the tee and a length of water which must be carried if you want to reach the green in two. The par-4 9th hole is also memorable, thanks to the island fairway and you must carry the ball over water twice to reach the green. Perhaps the most intimidating hole on the course is the par-3 15th, which features an island green. Although it may look a small target from the tee, it is actually 50 yards wide and playing at 169 yards, most players can easily reach safety. However, it is the psychological effect of seeing the water, which causes golfers the most problems on this hole.
Located just 30 minutes away from the city of Chiang Mai, Alpine Golf Resort Chiang Mai is easily reachable for a day of golf, before returning to your accommodation. However, being one of the best golf courses in Chiang Mai, it offers 4-star accommodation of its own, plus an international restaurant and day spa, meaning you could stay there for longer and enjoy the facilities.
Voted "Best New Golf Course in Asia" by Asian Golf Monthly and "Best Value for Money Golf Course in Asia"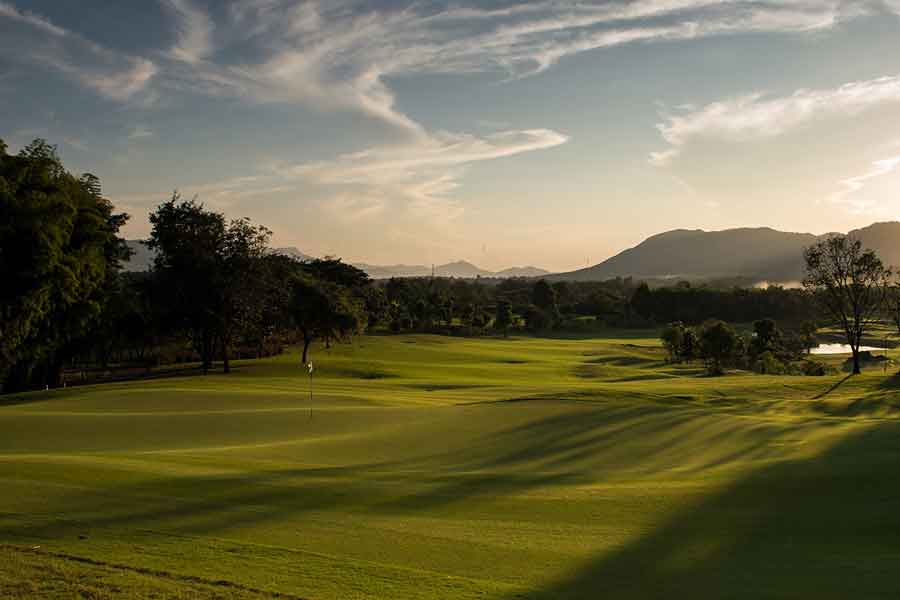 Another of the best golf courses in Chiang Mai can be reached in just 30 minutes from the city. Chiang Mai Highlands Golf and Spa Resort opened in 2005 and has rapidly become one of, if not the top golf course in this region of Thailand.
Designed by Lee Schmidt of Schmidt-Curley Design, the person behind other great golf courses in Asia, such as Mission Hills, Chiang Mai Highlands Golf and Spa Resort enjoys a high elevation. This means crisp fresh air, a cool climate and spectacular views. In 2007, Chiang Mai Highlands Golf and Spa Resort was presented with the award for Best New Golf Course in Asia by Asian Golf Monthly and in 2013 received the Best Value for Money Golf Course in Asia award. So, you know you are guaranteed a great golfing experience, at a competitive price.
Having started life as an 18-hole golf course, an additional 9 holes were added in 2015, as Chiang Mai Highlands Golf and Spa Resort continues to improve and expand. Bunkers are the key hazard on this course and feature over 130 times on fairways and close to the greens. Water also plays a significant part on the fairways. Many of the greens are undulating and slope from front to back, so you must plan your approach shots carefully, to avoid difficult putting.
The 1st and 18th holes are two of the best on the golf course. The 1st is a downhill hole and from the tee box you can see the whole of the golf course, which is a fantastic sight. The 18th is a thrilling way to finish a golf course which gets better with each hole. The short par-5 can be reached in two with accurate, long striking but beware the river which crosses the fairway if taking this approach. If you do not want to take on the challenge of crossing the water, you can lay-up and chip uphill for what should be a comfortable par.
Similarly to Alpine Resort Chiang Mai, Chiang Mai Highlands Golf and Spa Resort offers onsite accommodation, so if you would rather stay closer to the golf course than the city, you can. The cottage style accommodation is based in the countryside, meaning you will feel what it is like to live as a Thai local in a rural area.
The course is situated in the lowlands of Chiang Mai and bunkers and water come into play on most of the 18 holes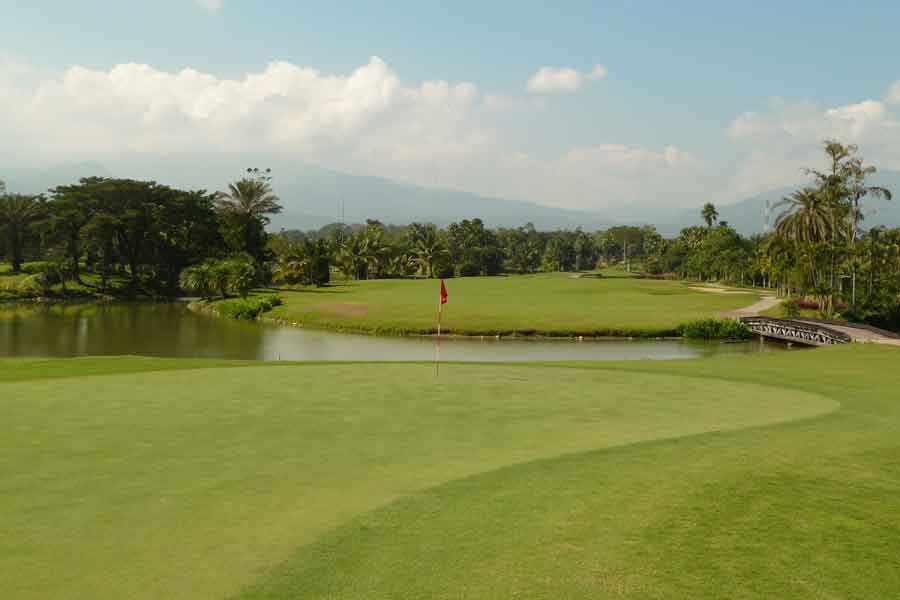 As mentioned previously, many of the golf courses around Chiang Mai are close to the city and Summit Green Valley Chiang Mai Country Club is no exception. Designed by Denis Griffiths, who is also responsible for Thai Country Club in Bangkok, Summit Green Valley is one the best golf courses in Chiang Mai, mainly due to the high-quality conditioning of the course.
The course is situated in the lowlands of Chiang Mai and bunkers and water come into play on most of the 18 holes. Palm trees line the course and there are great views of the surrounding mountains to enjoy, making Summit Green Valley very pleasant on the eye. However, with sand and water waiting at many of the landing points, the fairways become narrow and bad shots are punished. The greens are large and there should be no problem in finding them, plus they are quite receptive so approach shots should not be a problem for most golfers.
The pick of the holes includes the par-4 9th hole, which requires a tee shot over water, with bunkers on both the left and right side of the fairway. The second shot also needs to carry over water, to a green which is elevated and surrounded by palm trees. If you get nervous when playing around water, the 9th hole at Summit Green Valley will be a strong test of character and accurate hitting.
With a good clubhouse, restaurant and spa facilities, you can easily spend a whole day at Summit Green Valley. Being located so close to the city, this is one of the best golf courses in Chiang Mai for those who want to play on the day they arrive. It's also possible to play a round at Summit Green Valley if you are leaving in the afternoon or evening, such is the proximity of the course to Chiang Mai.
The course has many elements of a British links style course and this presents plenty of challenges for golfers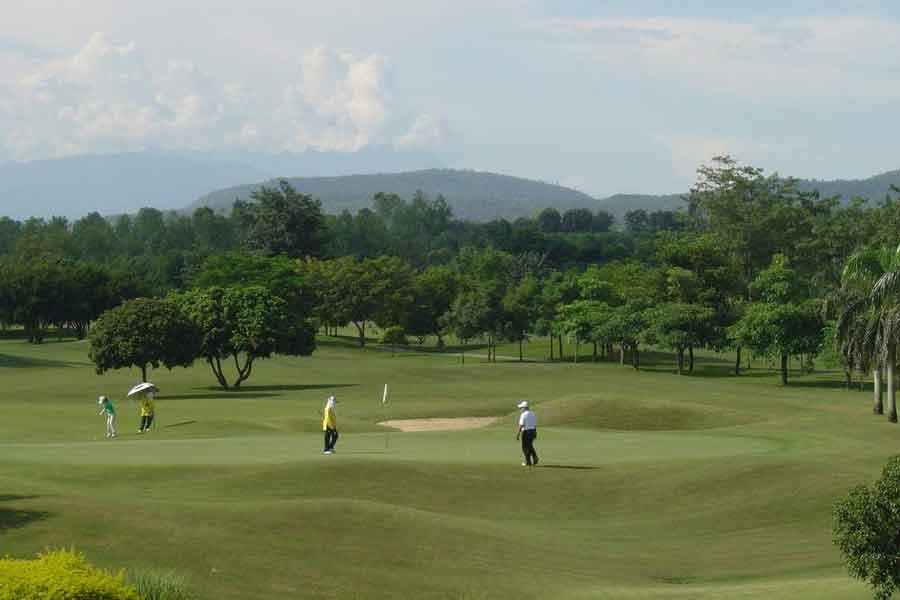 Slightly further away from the city, you will find Royal Chiang Mai Golf Club and Resort. This golf course was designed by Peter Thompson and led the way for the current crop of modern golf courses in this northern area of Thailand. Located 40 minutes away from Chiang Mai, Royal Chiang Mai Golf Club and Resort opened for play in 1996 and is well suited for beginner and experienced players alike.
As with many golf courses in and around Chiang Mai, you will notice how green everything is, both on and off the course. Set in a valley surrounded by mountains, you can expect to see waterfalls, streams and plenty of flora and fauna throughout your round. Wildlife is also abundant around the golf course, with plenty of birds on view.
Royal Chiang Mai Golf Club and Resort is short but remains one of the best golf courses in Chiang Mai. Despite the shorter length, the course has many elements of a British links style course and this presents plenty of challenges for golfers. Gently rolling fairways and pot bunkers make accuracy off the tee important and the high-lipped greenside bunkers are difficult to escape. With lakes and streams also coming into play, you cannot afford many wayward shots on this golf course, if you want to achieve a low score.
Having completed your round, the clubhouse offers superb views of the course and the surrounding area. You can relax on the terrace with a drink and something to eat, before heading back into Chiang Mai for the evening.
This golf course was completely renovated in 2013 and re-opened a year later to much acclaim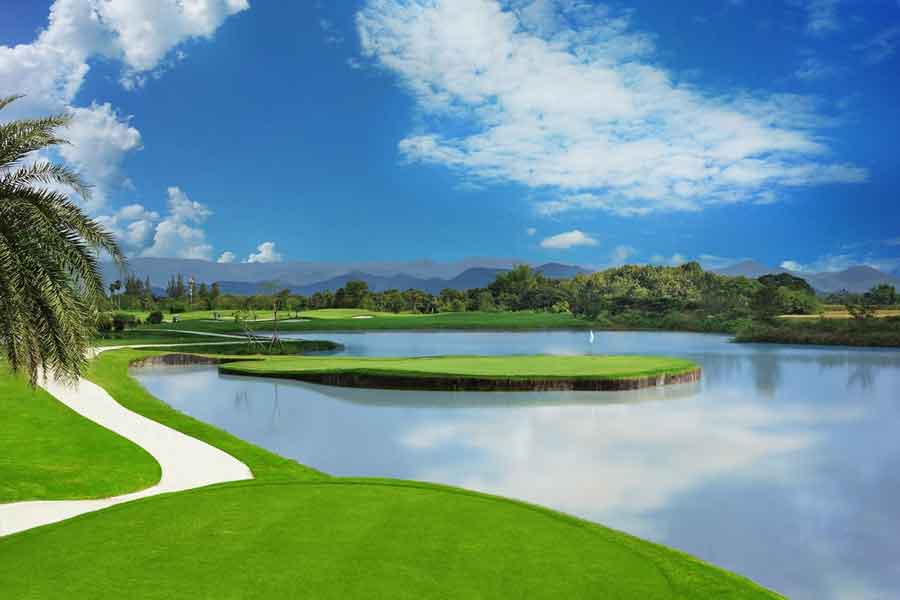 One of the furthest golf courses away from Chiang Mai but well worth the 45-minute drive, is Gassan Legacy Golf Club. This golf course was completely renovated in 2013 and re-opened a year later to much acclaim. This is another course which requires great accuracy, especially off the tee but don't be fooled because from the black tees it plays to 6,852 yards.
With gently rolling fairways and not a great deal of undulating terrain, the main challenge at Gassan Legacy Golf Club comes via the water hazards. In fact, water features heavily throughout the 18 holes and offers golfers the opportunity to attack or play safe. Do not be fooled by the simplicity of the opening hole, it is straight and will enable you to get off to a good start but there are much tougher challenges to come.
Some of the par-4 holes can be reached in one shot by the long hitters but accuracy is required on and around the greens to avoid three putting. The par-5 holes also offer plenty of risk/reward opportunities but you must be decisive in your approach because anything but 100% commitment to your shots could see you in the drink. The continued threat of sand and water across the 18 holes at Gassan Legacy Golf Club means you will be just as well rewarded for clever, accurate shots as you will for hitting the ball long.
The clubhouse remains quite basic but this does not deter from a great round of golf at one of the best golf courses in Chiang Mai.
The course has been extensivly renovated and re-opned in 2017 and is now a top-class track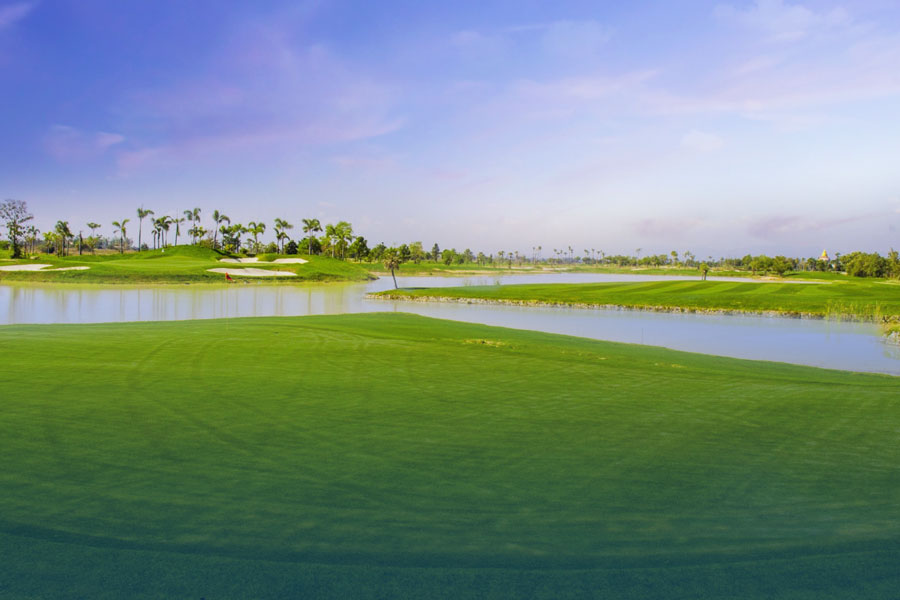 One of the top golf courses near Chiang Mai is Gassan Panorama and this can be reached within half an hour from the city.
This is the third course in the Gassan Group and opened for play in November 2006. However, it has recently enjoyed a renovation and re-opened in 2017 to much fanfare and it is easy to see why. Gassan Panorama plays to 7,761 yards from the back tees, making it not only the longest golf course in the Gassan Group but one of the longest in Thailand.
The course has been designed around a large lake and water dominates much of the course. However, it is not the only danger to be aware of during a round and bunkers come into play regularly, even close to the water.
Perhaps the most debated feature of the Gassan Panorama course is the par-6 hole. You will not find any par-5 holes on the course but one par-6 and this causes much talk among players following a round. Purists may not be keen but it certainly adds an extra element to a round of golf at Gassan Panorama.
The golf course, coupled with the backdrop of mountains plus the luxurious, Arabian style clubhouse, makes Gassan Panorama a must-play when staying in Chiang Mai.
Good resort course which is not too demanding but plenty of water hazards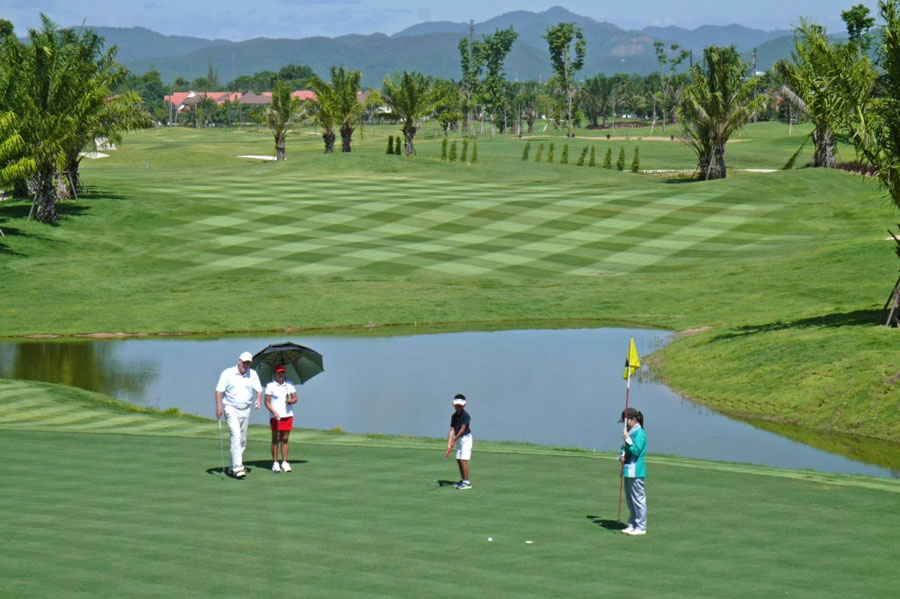 For those arriving at Chiang Mai via the airport, you are only 15 minutes away from your first round of golf at North Hill Golf Club. Created by a local Thai designer, this 18 hole, par-72 golf course opened for play in 2014 having started life as a 9 hole course in 2011.
Although water does not come into play on the first two holes, you must only wait until the 3rd hole for your first challenge. The 3rd hole at North Hill Golf Club is a par-4 and the fairway and green are split by water. You must play your tee shot to leave the best angle of approach over water, to the green which is protected by bunkers to the front and back.
There are holes like this included throughout the course and you will find water comes into play several times. However, the course is mostly flat throughout and there are no major changes in elevation. Most of the holes at North Hill Golf Club are laid out before you and it is possible to plan a strategy for each of them. If you enjoy playing strategic golf, where you can plot your way around the course, you are sure to enjoy a round at North Hill Golf Club.
The course is kept in great condition throughout the year and the clubhouse features a pro shop, spa and restaurant, with award winning dining.
In addition to the fantastic Chiang Mai golf courses highlighted above, you have many others available to play during a golf holiday in this region of Thailand. For example, Chiang Mai Inthanon Golf and Natural Resort provides the best views of the tallest mountain in Thailand and is surrounded by tropical fruit orchards, making it a very scenic course. Another course which is challenging but also offers tremendous views is Gassan Khuntan Golf and Resort. Situated next to Khuntan National Park, this is a beautiful golf course but with sharp doglegs, island greens, water carries, and steep-edged bunkers you must have your wits about you and be on good form, to finish with a low score.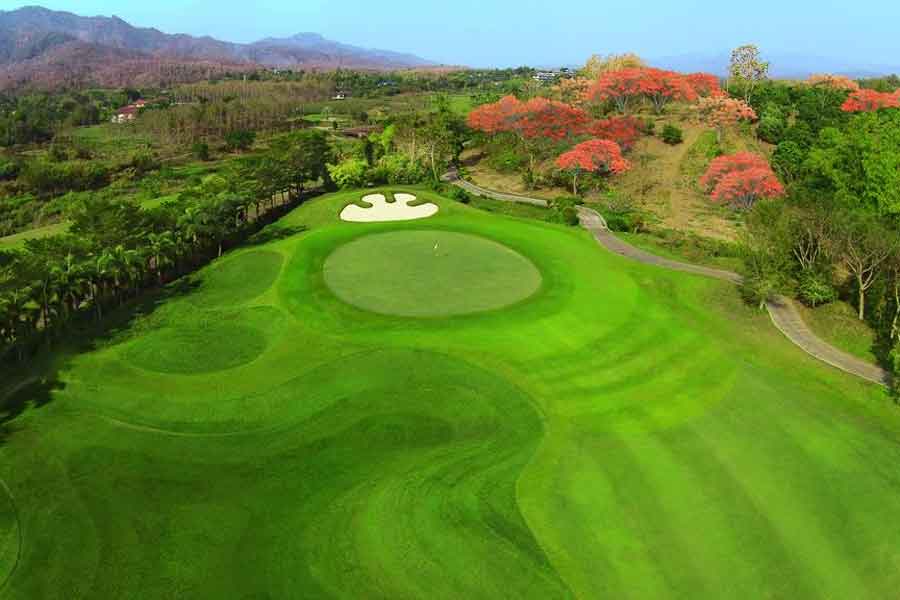 The furthest course away from Chiang Mai is Gold Canyon Golf Course. This course is set in a very rural area of Thailand and in contrast to many other Chiang Mai golf courses, there is very little water or bunkers to worry about. However, trees can become a problem and some are placed very close to the tee, meaning you must try and hit over them or face seeing your ball run the lottery of travelling through the branches.
From the furthest golf course to the closest and Lanna Golf Club is just a 10-minute drive from the centre of Chiang Mai. Having been established in 1974, the quality of the course may not match that of the more modern ones in the area but it remains very popular with the locals. There are three nine-hole courses to choose from, all of which are quite flat but several lakes and strategically placed bunkers add to the challenge. If you are looking for a quick round of golf in Chiang Mai, Lanna Golf Club is probably the best choice.
When choosing the best golf courses in Chiang Mai, you are spoilt for choice. The stunning natural beauty of northern Thailand lends itself to some of Thailand's most picturesque golfing experiences. Furthermore, you are never more than 30 minutes away from many of Chiang Mai's best golf courses. So, you can base yourself in the city and comfortably travel to each course you would like to play. Alternatively, you can book resort style accommodation at one or more of the golf courses and spend longer at each of them, the choice is yours.