Is there any other place in the world which offers you a unique golf experience quite like Bali?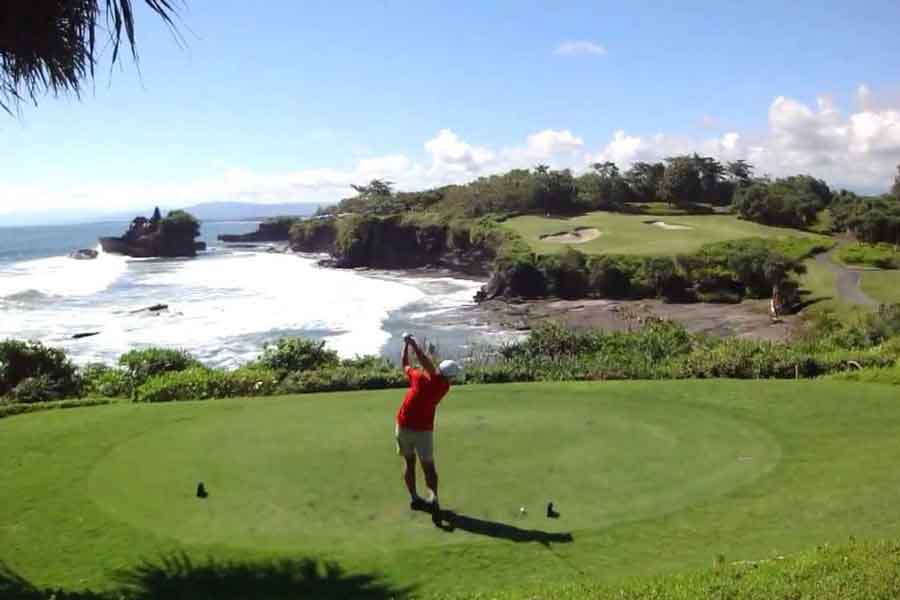 The island is part of the Indonesian archipelago and is home to around 4 million people. Bali is often described in travel magazines as being 'paradise' and this describes the features of the island very well.
Complete with mountains, ocean and a unique island culture, Bali is known as the 'Island of the Gods' and they have certainly been kind to those who love playing golf. There are several fantastic golf courses to choose from in Bali and you will feel as though you are enjoying something special when playing golf on the island.
Away from the golf, there is so much to enjoy in Bali. The rugged and varied landscape inspires everyone who visits and has also made for some very picturesque golf courses. With a combination of sandy beaches, rice terraces and volcanic hills, the various colours of the land combine to make Bali a sight for sore eyes.
It's not just the landscape which attracts people to this island, it's spiritual and unique culture also draws people in from far and wide. There are numerous historical and cultural attractions to enjoy and the surfing and diving is exceptional. Being such a great and diverse island, it's little wonder Bali continues to win travel awards. The continued development of Bali as a tourist destination has seen golf grow hugely in recent years. There is now a tremendous selection of golf courses on the island to enjoy.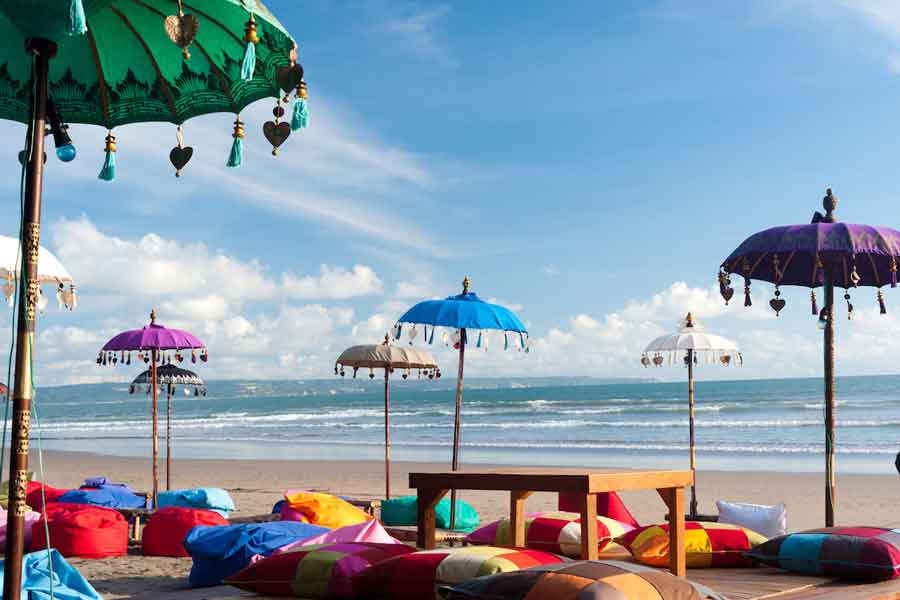 Ranging from the Bali National Golf Club, rated as the best on the island to the Bali Beach Golf Course, a 9-hole course suitable for all players, there is something for every golfer to enjoy in Bali. However, when planning a trip to Bali, one must consider the climate and the best time to visit Bali for a golf holiday. In many respects, the climate on Bali is like that found in other popular Asian golf holiday destinations, such as Thailand but is split into two seasons, as opposed to three.
Weather in Bali
The best time to visit Bali for a golf holiday in terms of dry weather is between April and September
The months between April and September is known as the dry season. Temperatures do not tend to fluctuate much across the year, so although there may be slight increases during this period in Bali, it will not be anything exceptional. Temperatures in the day time are usually very pleasant and fall between 25 and 30 degrees for much of the year. Although the best time to visit Bali for a golf holiday in terms of dry weather is between April and September, this doesn't mean you will be free from rain. However, if you travel to Bali between the months of June and September, the weather can be very dry, the humidity quite low and the evenings cool. This combination makes for the best time to visit Bali for a golf holiday in terms of the weather.
That being said, if you speak to the locals they are often surprised at how wet the dry season can be and how dry the wet season can be, so you must be prepared for both when booking a golf holiday in Bali. The specific wet season falls between October and March but December to March is when you need to be prepared for the worst of the weather. Between these months, the west monsoon can bring very heavy showers and increase the humidity level, which can make playing a golf a little more difficult than at other times of the year.
The temperature on Bali also depends on where you are on the island. If you are in a mountainous area, the temperature is typically cooler but with more rain than coastal areas. If you are staying in the mountains at night, make sure you bring a jumper and a jacket as it can be 10 degrees cooler up there than on the coast. If you have a complete dislike for rain, you should think about booking your accommodation on the Bukit Peninsula, which receives far less rain than any other part of the island. As mentioned above, the opposite is true of the mountains, which can see cloud and rain at any time of year, so keep this in mind when thinking about where you would like to stay for your Bali golf holiday.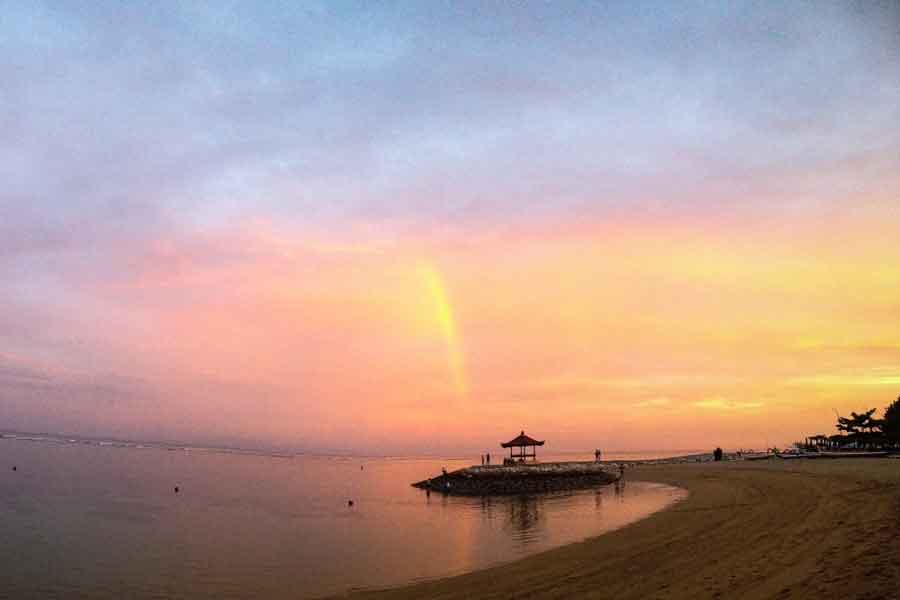 So, in terms of the climate, the best time to visit Bali for a golf holiday is between June and September. The weather is dry, humidity is low and the chance of rain is slim on much of the island. However, if you plan to book a golf holiday in Bali at this time of year, you will have to pay top prices for accommodation and flights. This is the busiest time of year in Bali and many people will be planning to arrive for their holiday between June and September.
The number of people on the golf courses will be higher and green fees more expensive than at any other time of year. If you are an experienced golfer and do not mind playing at a good speed, to maintain the flow of play around the golf course, this will not be a problem. Furthermore, even though this is the most expensive time of year to visit Bali for a golf holiday, it is still a cheaper place to play golf than many other countries around the world and you will feel you are getting good value for money. The tourist season will be in full swing, so you are guaranteed to enjoy all the top restaurants, beaches and sightseeing, with minimal disruption.
If you cannot make it to Bali for a golf holiday between the best months of June and September or even April and May, this should not put you off from booking your Bali golf holiday.
As highlighted above, the period between November and March can see more rain in Bali and the west monsoon can bring heavy showers, particularly from December through to March. The good news is, days often remain sunny in Bali, even during this period and showers tend to come in the late afternoon or evening and pass quickly. This leaves a good window of opportunity for playing golf in the morning and early afternoon, without the threat of rain disruption, which is great for those who cannot visit Bali during the dry season.
In addition, accommodation and green fee costs will be lower, making it the best time to visit Bali for a golf holiday if you are on a budget. There are not as many people visiting the island between November and March as there are at other times of the year, so you can find some great deals and places will be less crowded. If you are a beginner or slow golfer, perhaps this would be the best time for you to visit Bali for a golf holiday, as you will not feel as much pressure to keep up with other golfers around the course. Just keep in mind that Christmas and New Year will see the numbers swell in Bali to match that of June, as people head to the island to enjoy the beaches and restaurants, even though it is classed as being the rainy season. This period also sees the prices increase in terms of accommodation and green fees. So, if you are planning a golf holiday to Bali outside of the dry season, November would be a great month to visit and enjoy playing golf on the island.
With the above information in mind, you can begin choosing which golf courses you would like to include on your Bali golf holiday.
Bali National Golf Club
Bali National Golf Club was completely renovated and re-opened for play in 2013 to great acclaim.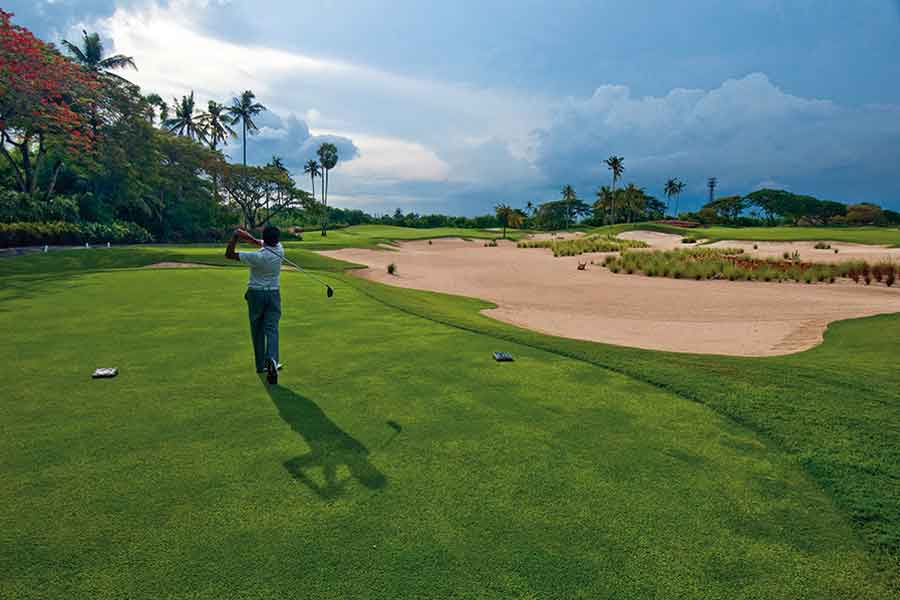 The course is situated on the southern tip of the island and just 20 minutes' drive from Ngurah Rai Bali International Airport. Many of the holes have been lengthened and the course now plays over 7,000 yards from the back tees.
Prior to the renovation, Bali National Golf Club hosted some top golf events, including the 1994 Asian Dunhill Masters, which is famous for Nick Faldo's course record score of 63 shots. Two distinct sets of nine holes make up the golf course, with the front nine playing through lush jungle and featuring hilly terrain throughout. The views from many of the holes is excellent and the handmade stone walls frame the fairways and tee boxes nicely.
The back nine holes play on flatter terrain, through manmade lakes and coconut trees. You cannot miss the 17th hole, which is very similar to the famous island hole at TPC Sawgrass and will see your ball come to a watery end if you do not find the green. The modern clubhouse is a great place to relax after a round of golf at Bali International Golf Club. You can enjoy some refreshment while overlooking the course and Indian Ocean from the terrace.
There are two things which make Bali International Golf Club a great choice when planning a golf holiday in Bali. Firstly, the course is well maintained all year round and this means you are guaranteed a top-quality golf course, whenever you decide to visit. Secondly, the golf club is located on the southern peninsula of the island, meaning it is on the driest part of the island. So, whenever the best time to visit Bali for a golf holiday is for you, the Bali International Golf Club is a place you can trust for a great round of golf on the island.
New Kuta Golf Club
Considered by many to be Bali's most spectacular golf course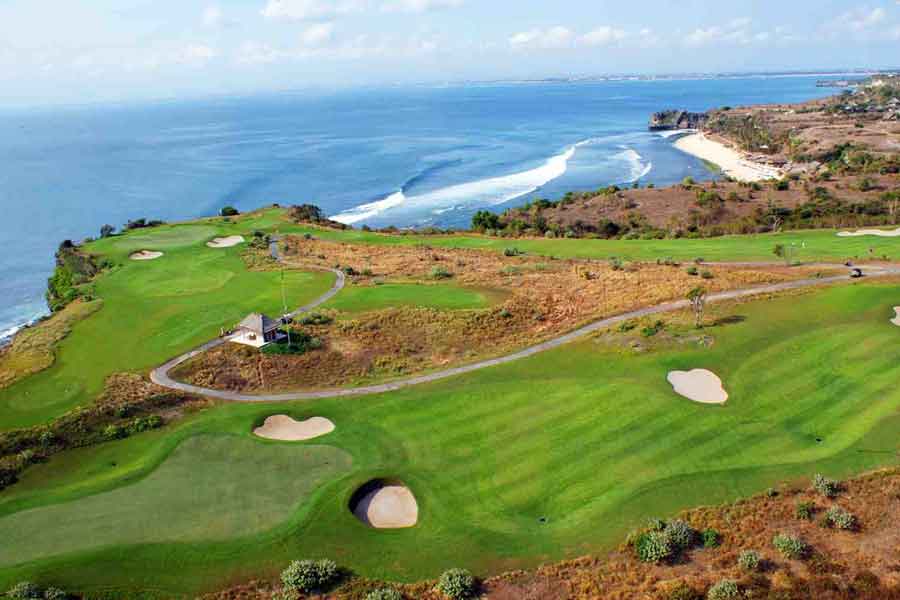 New Kuta Golf should be on the top of your list when planning a golf holiday to Bali. A links style course which was awarded the Best New International Course by Links Magazine 2008 has played host to the Asian Tour Indonesian Open and it's easy to see why it was chosen for such a prestigious event.
The rolling fairways and undulating greens, set upon white cliffs make for a tremendous looking golf course and with five tee boxes to choose from, beginner and experienced golfers alike can enjoy the course. The par-3, 6th hole is a great example of the thinking which has gone into New Kuta Golf and features an island green which is surrounded by sand, not water. If the fact the bunker circles the green and grabs your attention but wait until you get closer and see the depth. If you miss the green and find the sand, saving a par will become extremely difficult.
When playing New Kuta Golf, you will notice the breeze picks up on the back nine and although this will be pleasant on hot days it makes for a challenging group of final holes. Not only does New Kuta Golf combine a challenging golf course with natural beauty, it is also committed to the environment and was awarded certificate of IGOLF Laureate Course from the International Golf and Life Foundation (IGOLF) for environmental conservation. This is another golf course which is located on the south of island, which means it receives the best of the dry weather in Bali. Therefore, although the best time to visit Bali for a golf holiday is between June September, New Kuta Golf is a great choice for twelve months of the year.
Nirwana Bali Golf Club
Nirwana Golf Club has been voted as the best golf course in Indonesia and best golf resort in Asia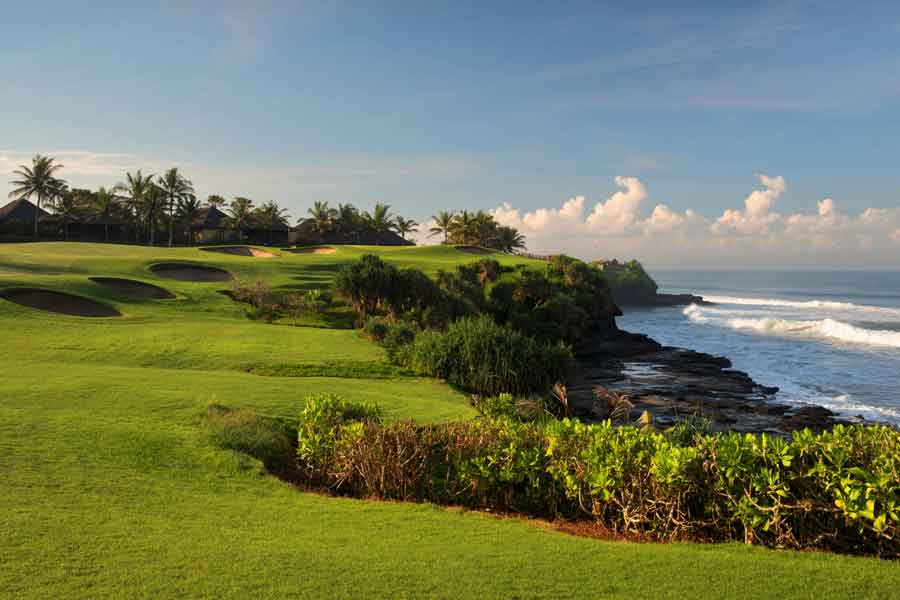 Moving to Bali's southwest coastline at Tanah Lot, you will find the Jack Nicklaus designed, Nirwana Golf Club. Situated just 30 minutes' drive away from the capital Denpasar, the course provides lovely views of the Indian Ocean and is surrounded by rice terraces and palm trees. Nirwana Golf Club has been voted as the best golf course in Indonesia and best golf resort in Asia, so it comes with a fantastic reputation.
Playing the golf course at Nirwana is like no other golfing experience in the world. The traditional Balinese landscapes are a joy to behold, with rice fields forming part of the rough and a famous Hindu temple protecting the course from the gods at sea. When playing golf at Nirwana Golf Club you become part of the island and can be easily swept away with the stunning nature of the surroundings.
However, the golf course is challenging and you cannot afford to spend too much time with your camera out, if you want to register a low score. The 13th hole is a great example of what to expect at Nirwana Golf Club and it stretches across the Indian Ocean cliff tops, before falling away to present the par-3, 13th hole, with the ocean crashing against the rocks below. Having completed your round, head to the luxurious Balinese style clubhouse, which offers a nice restaurant for a post-round meal.
Nirwana Golf Club, although situated slightly further north than the previous two golf courses, is still located in a great position on the island. Being so close to the coast, you will benefit from sea breezes during the warmer days of the year and if you plan to visit in June, you are guaranteed plenty of dry, sunny days to play golf.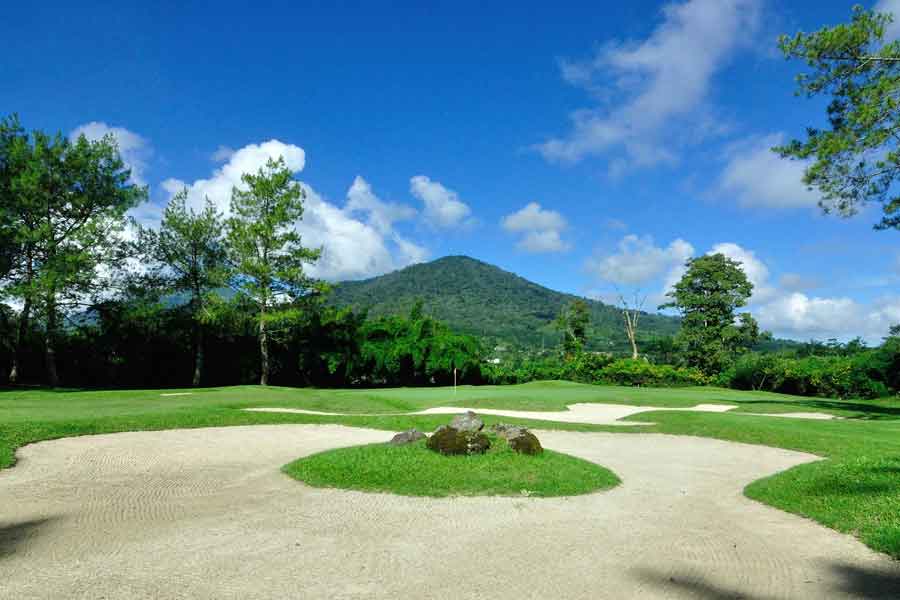 Other golf courses which are worth considering when visiting Bali for a golf holiday include Handara Golf and Resort. This is possibly the only golf course in the world to be inside a volcanic crater and the journey to the course from the coast is tremendous, offering a glimpse in to rural Bali life. Due to the altitude at which Handara Golf and Resort lies, the temperature is much cooler than on the coastal courses and can sometimes drop to around 15 degrees. Therefore, it's wise to carry a jumper and jacket with you at all times. As mentioned above, rain can fall more regularly in the mountains than down on the coast due to the increased cloud cover. Therefore, the best time to visit Bali for a golf holiday, if you wish to include Handara Golf and Resort on your itinerary, is June to September. However, that should not put you off visiting at other times of the year, as you can enjoy lovely days up in the mountains, even in December.
So, the best time to visit Bali for a golf holiday in terms of the weather is June to September. These are the driest months, with the lowest amount of humidity but do not let that put you off planning a golf holiday at other times of the year. People love to visit Bali in December and January and you can enjoy some great days of golf during these months.