Bangkok is the perfect place to start exploring the rest of Thailand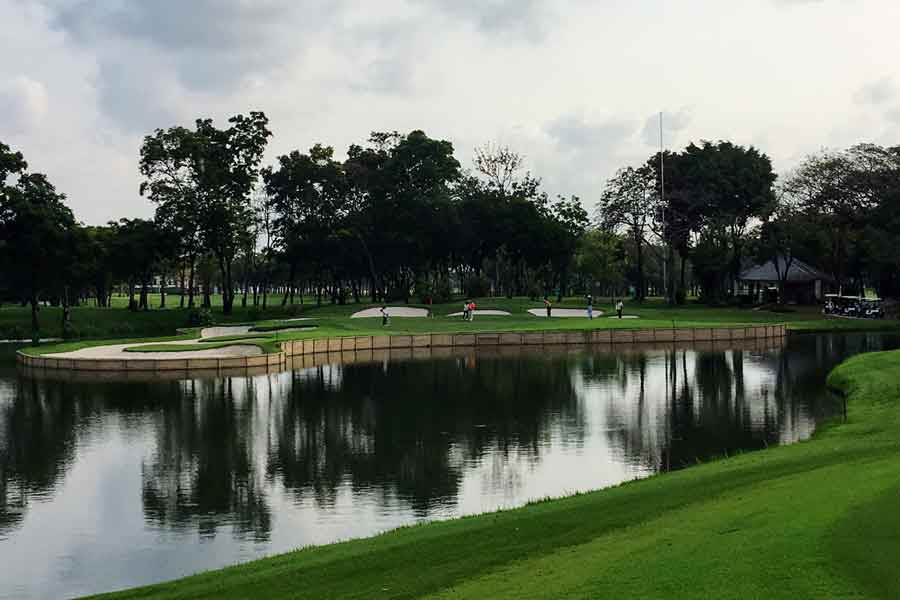 When looking to book a golf package in Thailand, there is no better place to start than the capital city of Bangkok. In fact, when it comes to playing golf in the whole of Asia, Bangkok stands out as one of the top places to book a golf package. Bangkok golf packages are available in various durations and cover several championship golf courses, giving you and your group the best possible experience when it comes to playing golf in this region of Thailand.
Not only is Bangkok a great place in its own right, it is the perfect place to start an exploration of the rest of the country. Thailand is a fabulous country, especially when it comes to golf and you are spoilt for choice when it comes to world class golf courses and facilities. By arriving in Bangkok, via the international airport, you can easily travel around the rest of Thailand using different forms of domestic transport. Whether it be catching a flight to the south of the country, taking a bus or train to one of stunning mountainous regions or a taxi to one of the many villages or towns on the outskirts of Bangkok, it's all there for you to enjoy.
Chiang Mai & Phuket are just a short one hour flight from Bangkok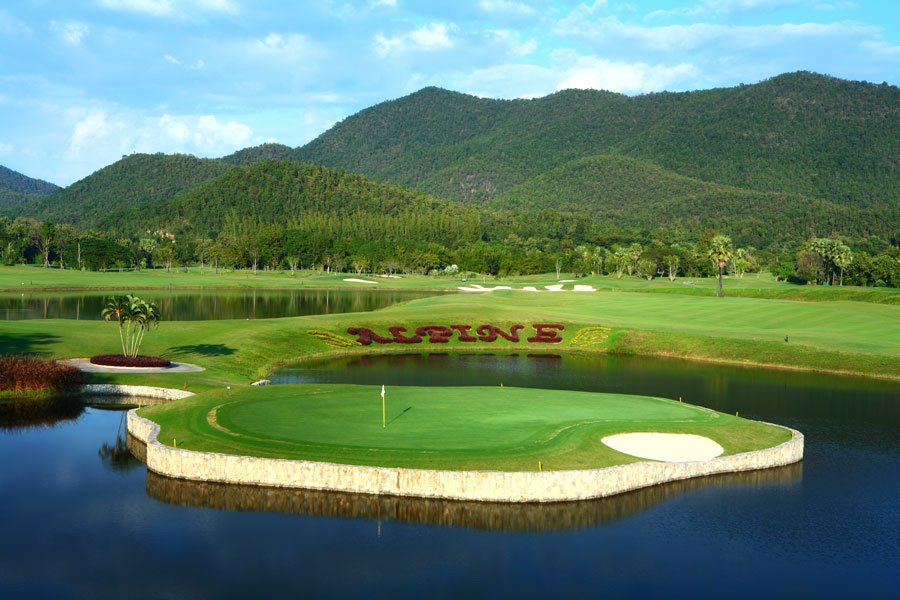 For example, to reach Chiang Mai, which is beautifully set in the north of Thailand, you can take one of the several trains, some of which travel over-night. You also have the option of an internal flight, which takes just 70 minutes from Bangkok and before you know it, you will be in the fresh, cooler air of Chiang Mai and ready to sample the wide range of golf courses in this area of the country. If you would rather opt for a beachside extension to your trip, you can head to the picturesque island of Phuket, in the south of Thailand. To reach Phuket from Bangkok, you can take one of the many daily flights to Phuket International Airport, one of the several direct buses and the train, all be it indirectly. So, Bangkok is the perfect springboard to every other region of Thailand and you can easily split your time between Thailand's capital city and other areas of the country.
You should be under no illusion just how big Bangkok is and there are over eleven million people living in the city. However, you should not let the sheer volume of people who call Bangkok home stop you from visiting, as the fantastic temples and palaces are a sight not to be missed. Then there's the food markets, offering you the best in fresh and local ingredients and cooked meals, the canals and the lively nightlife. When visiting Bangkok for the first time, the cosmopolitan city can be an overload for the senses but you soon understand this is part of the charm of one of Asia's greatest cities. Three palaces you should see during your stay are the Grand Palace, Wat Pho and Wat Arun and if you would like to escape for the hustle and bustle of the city centre for a few hours, head to Lumphini Park in Silom, which is the largest park in central Bangkok. In terms of travelling around the city, you cannot leave Bangkok without taking a trip around the streets in an iconic Tuk Tuk. These are easy to pick from almost every street and there is even a hop-on hop-off service available, which takes people to all the popular sites and you can pay for one trip and get off when you like. It's a fun way to explore Bangkok.
November to February are the coolest and driest months of the year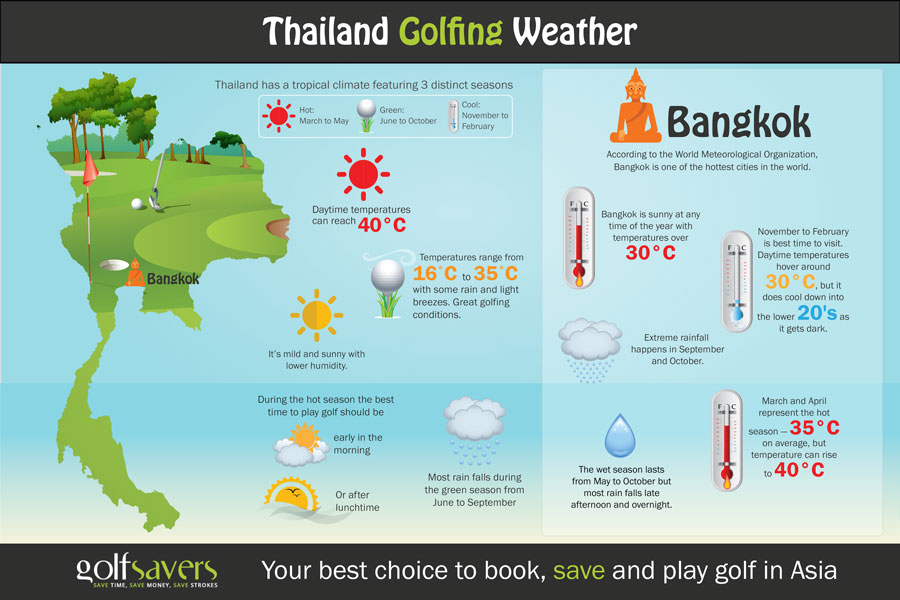 As you browse the Bangkok golf packages below and begin forming your ideal golfing holiday, you must keep in mind the climate in and around Bangkok. The city is just 14 degrees north of the equator and basks in warm temperatures all year round. In terms of booking a Bangkok golf package, you should aim to travel between November and February, as this is both the coolest and driest months of the year. During the day, you can expect temperatures to hover around 30 degrees and as the sun goes down, it can drop to the lower 20's and this makes walking around the city and playing golf, a real pleasure. At other times of the year you must be prepared for both hot and wet weather. Between March and April, the weather can get extremely hot in Bangkok, with the temperature hovering around 35 degrees and this can make sight-seeing and playing golf a little uncomfortable. From May until October there is a high chance of rain, with huge downpours not uncommon. However, an afternoon shower can be a nice way to cool off and if the rain is not persistent you can easily enjoy everything Bangkok offers, whether it be shopping in the street markets or playing golf.
In terms of Bangkok golf packages themselves, you have several excellent options, some of which take in Bangkok and its vicinity and others which include additional areas of Thailand. Which you choose will be depend much on the length of time you have available. So, whether you have a weekend or nine days, there is a Bangkok golf package to suit your requirements.
2 rounds (Thana City & Muang Kaew)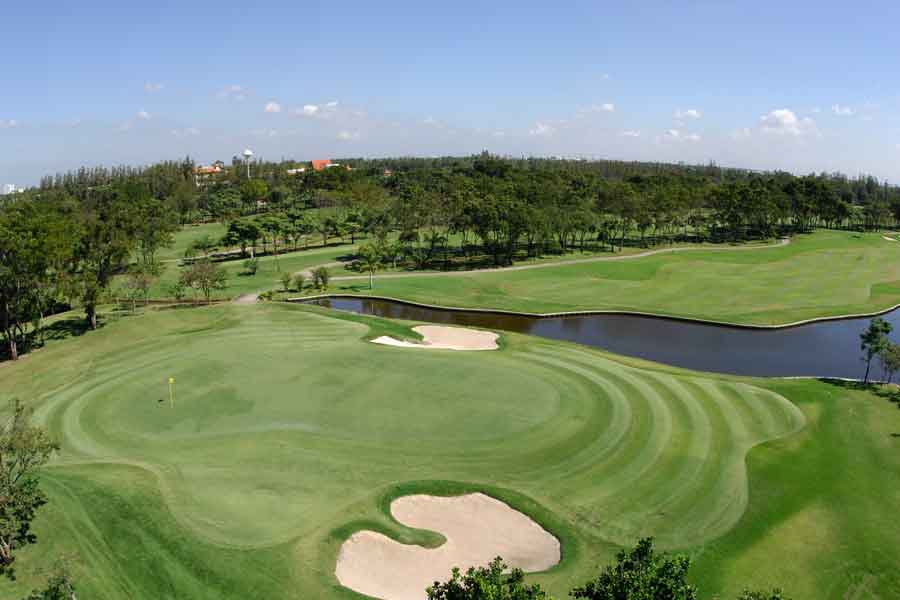 For those who are a little short on time but would love to sample the best golf courses in Bangkok, we recommend the Bangkok Weekender. This package is spread over three days and two nights and includes two rounds of golf, making one of the most popular Bangkok golf packages for those who have a short amount of time in the city. This package includes the tremendous Thana City Golf and Sports Club, which features Thailand's only Greg Norman designed golf course. Within easy reach of downtown Bangkok, this course has played host to some of the biggest names in world golf, including Ernie Els, Vijay Singh, Laura Davies, Ian Woosnam and Thailand's own, Thongchai Jaidee. The second course you will enjoy on this Bangkok golf package is Muang Kaew Golf Club and this a popular course with the locals. Similarly, to Thana City Golf and Sports Club, Muang Kaew is just 20 minutes away from the centre of Bangkok, which is perfect for those who are short on time and having been redesigned by Lee Schmidt and Brian Curley, you are guaranteed a good and challenging round of golf. The back nine holes are excellent, with a wide variety of holes and plenty of water hazards to avoid. If you are looking for the perfect weekend golf break, The Bangkok weekender is ideal.
4 rounds (Suwan, Green Valley, Summit Windmill, Thana City)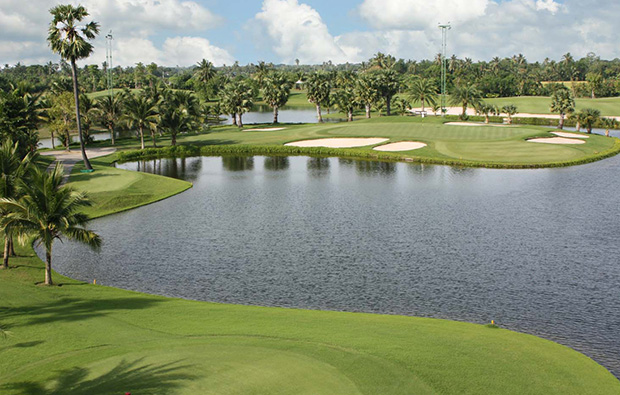 If you have more time on your hands, you should select one of our longer Bangkok golf packages. The one week Bangkok golf package will allow you to sample many of the cities attractions and play four rounds of golf, starting at Suwan Golf and Country Club. This championship course hosted the 2010 Asian Tour International and 2011 Thailand Open, which underlines the fantastic quality of the golf course. Located to the west of Bangkok, the course is set among rural villages, rice fields and fruit orchards and has won several best in Asia awards. You cannot fail to be taken in by the beauty of this course but at the same time, with the course being hilly and greens well bunkered, you must try and focus on your golf, to get a low score. From here, you will head to Lam Luk Ka Country Club, which offers 36 holes of top quality golf. This course is used for Asian Tour qualifying and is set on Bangkok's wetlands, meaning water comes into play on many of the holes. Finally, we take you to the Nick Faldo designed, Summit Windmill Golf Club, which is home to one of the most challenging golf courses in Bangkok. One of the great things about this course, other than the tremendous par-3 holes is the floodlights, which makes night golf possible and opens the opportunity to visit some Bangkok attractions during the day and play golf at night, when the temperature is a little cooler.
As mentioned above, one of the many benefits of Bangkok is the fact you can easily explore the rest of Thailand from the city and this means extending the choice of golf courses you can play, if you have nine days available. Our longer Bangkok golf packages stretch over nine days and take in golf courses around Bangkok and one other region of Thailand.
2 round Bangkok (Thai Country Club + Summit Windmill). 4 rounds Hua Hin (Black Mountain, Banyan, Springfield, Seapines)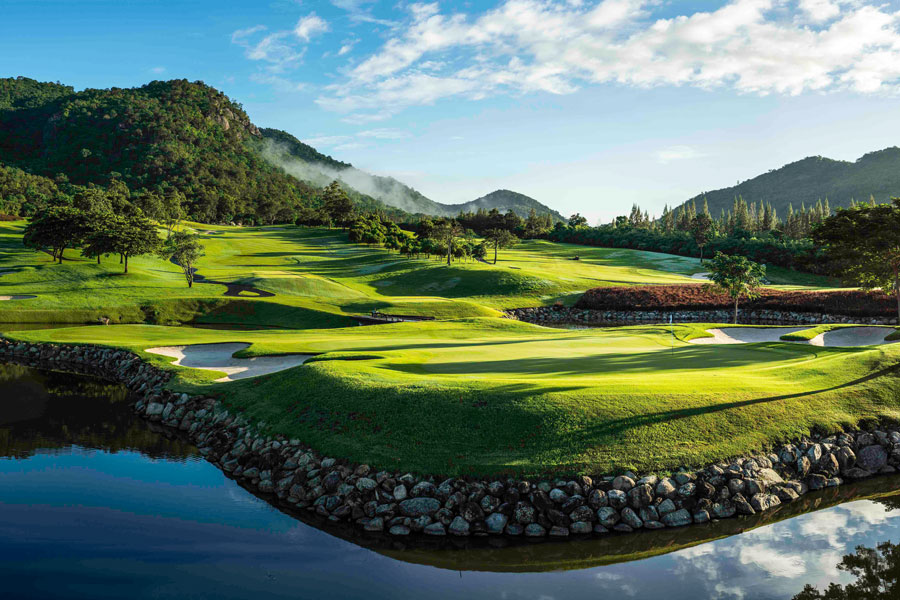 For example, our Bangkok and Hua Hin Two Centre package will see you play one round of golf in Bangkok, at the Thai Country Club and four rounds of golf in Hua Hin. The journey between both places is just under 3 hours, meaning you do not lose much time to travelling and can enjoy more time on the golf courses and seeing the attractions. Thai Country Club is famous for hosting the Honda Classic, Johnnie Walker Super Tour and Volvo Masters, with great players such as Tiger Woods competing. This is a classic parkland layout, with water and large sand bunkers and the course is very well maintained, making it one of the top golf courses in Asia. When in Hua Hin, you will play four great courses, which are Black Mountain Golf Club, Banyan Golf Club, Springfield Royal County Club and Seapines Golf Course. Perhaps the pick of these Hua Hin golf courses is Black Mountain, which has hosted several Asian Tour events and the first European Tour event to be staged in Thailand. Risk and reward is the key feature of this golf course and for those who want to attack, you can but at the risk of dropping shots. Decision making is key at Black Mountain and you will thoroughly enjoy your day, at one of Thailand's best courses.
2 rounds Bangkok (Thana City + Suwan). 4 rounds Khao Yai (Mountain Creek, Kirimaya, Bonanza, Rancho Charnvee)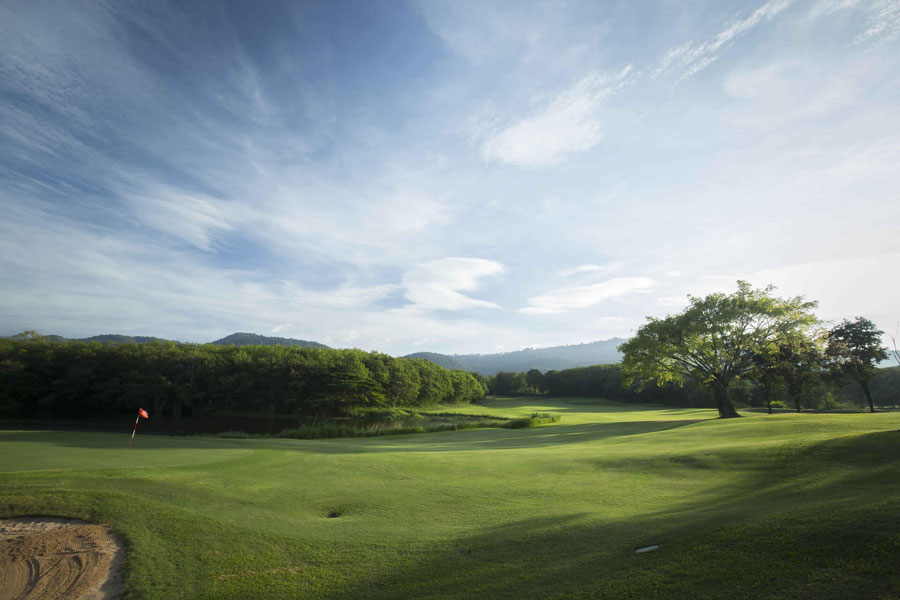 Travelling in the opposite direction from Bangkok and heading into the north of Thailand, you will find Khao Yai and this is included in the fourth of our Bangkok golf packages. Again, you will need nine days available to enjoy this golf package and its great value. Not only do you get to play two rounds of golf during your stay in Bangkok, you also have four rounds of golf in Khao Yai.
While staying for six nights in Khao Yai, not only can you see the spectacular national park but you will also play four of the region's best golf courses. These include Mountain Creek Golf Resort and Residence, Toscana Valley Country Club, Rancho Charnvee Country Club and Kirimaya Golf Resort and Spa. When in Bangkok, you will play Alpine Golf and Sports Club, which is the venue of Tiger Woods' Asian Tour win in 2000 and Nikanti Golf Club, which is an all-inclusive golf course and boasts one of Bangkok's best 18-hole layouts. This course is unique in many ways, with more than the standard number of par-3 and par-5 holes, greater degrees of elevation than many other Bangkok golf courses and everything included in one price, including free local drinks on the golf course. If you would like to include one of Thailand's largest national parks as part of your stay, you should seriously consider the Bangkok and Khao Yai two centre golf package.
2 rounds Bangkok (Thai Country Club & Summit Windmill). 4 rounds Pattaya (Burapha, Laem Chabang, Siam Country Club Plantation & Old Courses)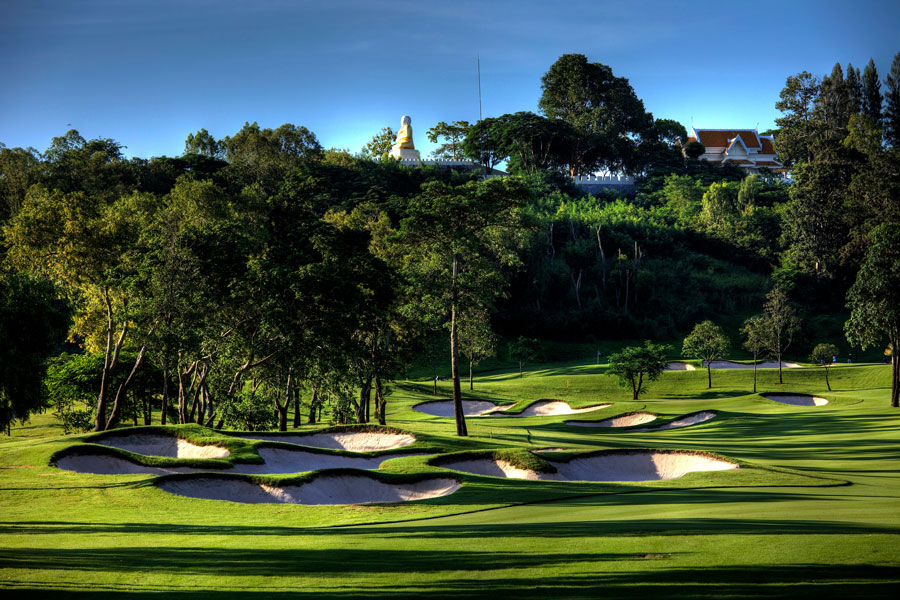 Our fifth Bangkok golf course package features another location in Thailand, in conjunction with the capital city and that's Pattaya. This packages is also spread across nine days and eight nights, with four rounds of golf in Pattaya and two in Bangkok. Pattaya is on the east coast of the Gulf of Thailand and can easily be reached within a few hours from Bangkok, making it the perfect place to include as part of a Bangkok golf package.
While staying in Pattaya, you will play two golf courses at the Siam Country Club, the home to the 2015 Thailand Open. The Plantation Course and possible the most famous golf course in Thailand, the Old Course. You will also have the pleasure of playing the Jack Nicklaus designed Laem Chabang Country Club and St Andrews 2000 Golf Club, featuring an 18-hole course created to replicate a traditional Scottish links course and two long, par-6 holes. During two nights in Bangkok, there are two rounds of golf to play, at the Royal Golf and Country Club and Lakewood Country Club. The former is the closest 18-hole championship course to Suvanabhumi International airport and this makes it a great course to add to Bangkok golf packages, as you can easily fit in a round upon arrival or prior to flying home. Water plays a huge role on this Bangkok golf course, with canals featuring on many of the holes, in addition to undulating fairways and tiered greens. Lakewood Country Club offers 27-holes of golf, split into four sets of nine holes and is very well maintained all year round, thanks to the excellent drainage on the course. This makes it a great course to play following wet weather and even after a heavy downpour, you can rely on Lakewood Country Club to be open and in good condition.
2 rounds Bangkok (Suwan & Thai Country Club). 2rounds Kanchanaburi (Grand Prix, Nichigo)

The final Bangkok golf package we offer features another outstanding area of Thailand called Kanchanaburi. Consisting of seven days, you will play three rounds of golf in Kanchanaburi and two in Bangkok. Kanchanaburi is a modern town but is full of history and for anyone with an interest in World War II, it is a must visit when in Thailand. The three Kanchanaburi golf courses included in this package are Grand Prix Golf Club, regularly voted as being one of Thailand's best, the spectacular Royal Ratchaburi Golf Club and Blue Sapphire Golf and Resort, a rural course with 26 holes of golf to enjoy. While staying for two nights in Bangkok, you will play Suwan Golf and Country Club and Lam Luk Ka Country Club, both of which are highlighted above.
All our Bangkok golf packages have been chosen carefully, to include a great choice of the best golf courses and the opportunity to take in the magnificent attractions and sights in this splendid region of Thailand. Whether you have a few days or nine days available, you can enjoy playing golf in Bangkok and the surrounding area, by booking one of our outstanding Bangkok golf packages.